Hunky Actors of the 80s and 90s: Brad Pitt, Patrick Swayze and Christian Slater
Movies, Video & TV
September 28, 2010
Knoji reviews products and up-and-coming brands we think you'll love. In certain cases, we may receive a commission from brands mentioned in our guides.
Learn more.
Trivia to the handsome actors of the 80s and 90s:Movie and career info for and photos of Patrick Swayze, Brad Pitt and Christian Slater
This article is a sequel to my previous factoidz called Hunky Actors of the 80s and 90s: Michael Douglas, Kevin Costner and Mel Gibson.
Brad Pitt
Brad Pitt has been labeled as a heartthrob since he played his little part in the cult classic Thelma and Louise opposite Susan Sarandon and Geena Davis, in 1991. Since then, he has appeared in the cult thriller Se7en, the Anne Rice adaptation Interview with the Vampire, epic romance Legends of The Fall, Oceans series and many more films. He has been nominated for Oscar twice, once for Best Actor with his role in The Curious Case of Benjamin Button, his second collaboration with Se7en director David Fincher. In The Curious Case of Benjamin Button, Brad Pitt tackled a role that not many 45-year-old actors might have managed: he played himself at various ages, 80s and 20s included. Make-up and effects helped but his good did compensate when he played his teen version. Pitt has managed a diverse career with interesting films and he has maintained both his looks and popularity over the years.
Patrick Swayze
Patrick Swayze was the son of a dance teacher mother, and he grew up to be a professional dancer. He was also a talented actor that made millions of fans worldwide with films like Ghost and Dirty Dancing. Dirty Dancing also showed his dancing abilities where he played a professional dancer. His backstage and real life dancing partner was his wife, actress/dancer Lisa Niemi, who was also one of his mothers' students. His talents weren't limited to dancing and acting, as he also contributed to Dirty Dancing soundtrack, with the hit slow number She's Like The Wind. He co-wrote and performed the song himself.
Despite battling with alcohol, Patrick managed to have the perfect and ever-envied relationship with his wife Lisa. They had met when she was 15 and he was 19. Their relationship ended with Patrick Swayze's death in 2009, at the age of 57.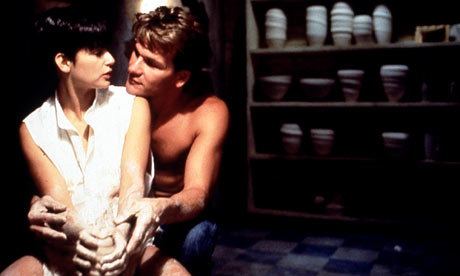 Christian Slater
Christian Slater started taking lead roles as a young man in the 80s and he balanced his psychotic and problematic roles with the nicest guy ever roles, along with many other parts. In Heathers, he set out to murder the Heathers of the school, inspired by his girlfriend's despise for them. In Robin Hood, he was the rebellious and jealous younger brother of Robin (Kevin Costner). In Bed of Roses and Untamed heart, he was the ultimate romantic stalker with the best intentions at heart.
So far, Christian's roles included an agent with split personality, a journalist interviewing a vampire (Interview with the Vampire), a cop, thief, a guy falling in love with a hooker, soldier, FBI agent, lover, lawyer and more. Christian Slater still remains to be popular actor, both on the big and small screen, working with other famous actors.
7 comments